I fell in love with Guatemala 16 years ago when I first stepped foot in the country. It left an imprint on my heart and, at the time, I really wasn't sure exactly why I felt this incredibly strong connection to Guatemala. But, I left the country in tears at the age of 19, knowing I would be back someday. Jason and I had only been dating for a few months at that time, but I knew he would be coming back with me. This was one thing I knew for
SURE
, with every fiber of my being.
Little did I realize at the time what that really meant! I had no idea that Guatemala would be a source of life for our family.

Adopting internationally not only united us with our son, but also with a country, a culture, a new view of the world and our place in it. It is life changing to experience another culture, especially one that is so completely different than our own and in a third world country. The experience of being in a different culture combined with the experience of adoption enabled us to step back and view our lives through a different lens. To take stock, in a sense. Our fight and struggle to have a family and our journey across the boundaries of country and culture, embedded a deep appreciation and perspective on what is really important in life. It shapes how we think and see the world now and it has inspired us to be more giving in many ways, affecting so much of what we do. Having this connection makes the world feel so much smaller and makes it feel like what we all do as individuals and communities really does matter.

This year, Jason decided to carry some of these life lessons into his classroom in his attempt to develop his curriculum around character education and giving back. Jason teaches high school special education in a struggling, urban school with kids who often do not feel deserving of an education or feel like they have anything to contribute to society. Jason decided to involve the kids in a project to sponsor a student through Safe Passages in Guatemala. Click HERE to check out Safe Passages. What started out as a seemingly ambitious project has turned into a life changing experience for some of his students. Jason was able to have his students participate in a video conference (along with some other US & Canadian high schools) with a school in San Marcos, Guatemala. His students were able to interact directly with students in Guatemala and learn more about their life. After the video conference, Jason showed the movie, Recycled Life, which is an award winning documentary about the people who live and work in the Guatemala City Dump. (Click HERE to watch a trailer of the documentary. It is worth 2 minutes of your time.)The impact on these kids has been astounding and they have suddenly developed ownership over this project. Jason told me he has never seen his students work so hard. He has never seen his students work so well together, as a team, for a common goal. He has never seen his students have so much purpose and feel like what they are doing matters. Isn't that amazing and inspiring? Here are a couple pictures of their growing project that Jason took with his phone.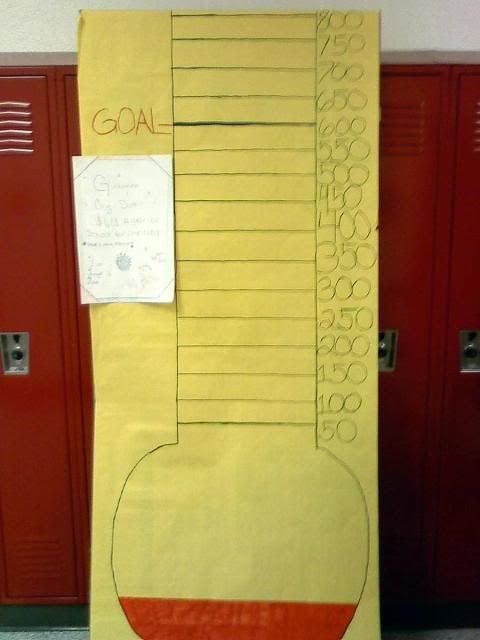 Obviously, their project has nothing to do with adoption, but I love that our adoption has opened our world and has influenced so much of what we do and how we live our lives. I love that adoption can bring people together across cultures, class, race, ethnicity, and more to make us all feel more connected rather than divided.