Little pea is definitely a rough and tumble boy. He loves all forms of trucks (especially firetrucks!), likes to get dirty, climbs like a monkey, thinks body slamming is funny, and already throws like a little leaguer.
But, my rough and tumble little boy also loooooooves princesses! He frequently asks to watch the Dora princess episodes and begged me to buy him a princess toothbrush last week. "PaLEEEEEESE, mommy! With a cherry on top?!" (whoever taught him that is EVIL!)
So, whenever pea pulls out the blocks, it usually involves building a princess tower. Today's princess tower had a super "cool" garage for the princess's car.
Mr. Cheesy. He is definitely into making a cheese face and immediately saying, "Let me see the picture!"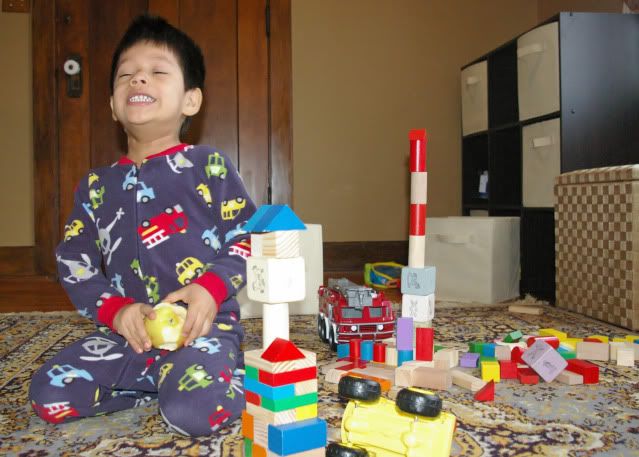 And, as much as pea enjoys constructing his princess towers, he enjoys destroying them even more. Thank goodness the firetruck was close by to "put out the fire" and clean up after the destruction.